Craftster
so if you're a member and interested we'd love to have you! I'll post a link to the actual thread when I open the signups but in the meantime keep a look out of it!
Hey all, I just wanted to let you all know that I'll be running a Watchmen themed craft swap over on
It's pink because, while I have a blue that matches the one on the pilot, my friend that wanted one for her birthday last year, picked out the pink from my collection of brocade.
http://s243.photobucket.com/albums/ff18/jaylabeta/Kaylee%20Coat/
X-posted to fireflyfans.
Nine!
is here. My doll of the Ninth Doctor from Doctor Who. I have made Ten, also, and I plan on making One through Eight as well, Even Eleven after he comes into being. :)
Second in a Ten part series,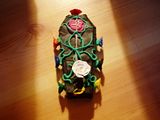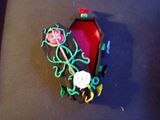 More pics over here at the craftster site.

If you're on Craftser, go vote (for whomever) in the challenge tomorrow! I'll provide a link when one appears.
X-posted in
roselinedcoffin
So on Craftster there was a challenge to make something inspired by your favorite fictional character. I chose Utena.
Current Mood:

accomplished
I organized a Doctor Who and spin offs swap over on Craftster and I thought I'd share